Kids
Shopping
For the Home
Services
Calendar of Events
Contact Us
Minor Criminal Incidents
Public/Private Schools events
Facebook

Bellmore Playhouse - 525 Bedford Avenue, Bellmore Village (516)783-5440


Broadway Multiplex Cinemas - Rt 106 & Rt 107, Hicksville (516)935-5599
Clearview Franklin Sq. Cinemas -989 Hempstead Turnpike, Franklin Square (516)775-3257
Clearview Grand Avenue Cinemas - 1849 Grand Avenue, Baldwin (516)223-2323
Clearview Herricks Cinemas - 3324 Hillside Avenue, New Hyde Park (516)747-0555
Clearview Port Washington Cinemas - 116 Main Street, Pt Washington (516)944-6200
Clearview Roslyn Quad - 20 Tower Place, Roslyn (516)621-8488
Clearview Soundview Cinema - Shore Road, Port Washington
(516)756-2589 x 881
Clearview Squire Cinemas - 115 Middle Neck Road, Great Neck (516)466-2020
Glen Cove Cinemas - 5 School Street, Glen Cove (516)671-6668
Loews Cineplex Entertainment - 3585 Hempstead Turnpike, Levittown (516)731-5400
Loews Cineplex Fantasy Theatre - 18 N. Park Avenue, Rockville Centre (516)764-8240
Loews Cineplex Raceway Theatre - 1025 Corporate Drive, Westbury. (516)745-6633
Loews Cineplex Rockville Centre Twin Theatre - 340 Sunrise Highway - Rockville Centre (516)678-3121
Long Beach Cinema - 4179 E Park Avenue, Long Beach (516)431-2400
Loews Cineplex Entertainment - Roosevelt Field Shopping Center, Garden City (516)741-4007
Malverne Cinema - 350 Hempstead Avenue, Malverne (516)599-6966
Merrick Cinemas - Broadcast Plaza, Merrick (516)623-1177
Mid-Island Theatre - Hempstead Turnpike, Bethpage (516)796-7500
Multiplex Cinemas - Rt 110/Conklin Street, Farmingdale (631)777-8080
North Shore Towers - CinemaGrand Central Pkwy, Floral Park (718)229-7702
Oceanside Theatre - 2743 Long Beach Road, Oceanside (516)536-7565
Original Bellmore Movies - 222 Pettit Avenue, Bellmore (516)783-7200
Seaford Cinemas - Washington Av/Merrick Road, Seaford (516)409-8700
Sunrise Multiplex Cinemas - 750 W Sunrise Highway, Valley Stream (516)825-5700
United Artists Lynbrook Theatre - 321 Merrick Road, Lynbrook (516)593-1033
United Artists Westbury 12 - 7000 Brush Hollow Road, Westbury (516)333-0009
top
This Week's Job Listings- Updated Daily Looking for a Job? Check the Classified Page
PRAYERS TO FIND A SOULMATE
Female IDF paramedics' fight for life
The resuscitation attempts inside moving tanks, the ceaseless shooting, the burnt aroma in the air – four paramedics, some of the only women who served in Gaza for a long period of time, tell of days filled with pain and pride.
Anat Meidan, Yedioth Ahronoth
On that terrible night, just days after cancelling her vacation abroad and returning to Israel, Staff Sergeant Yonat Daskal lay on the sand of Gaza and looked skyward. The 10 wounded soldiers who she had treated over the last few hours had all finally been evacuated to different hospitals within Israel.
"I looked up at the stars and tried to understand what had happened to me," she said. "I told myself that today is Friday and I should have been with my family for Kiddush, or even in Mexico, but instead I'm in Gaza, in the reserves, and maybe that's what was supposed to happen. Maybe I needed to be there to give my abilities to the wounded, guys from my battalion, 18-year-old soldiers who shouldn't be in my care. What have they had time to do in their life?"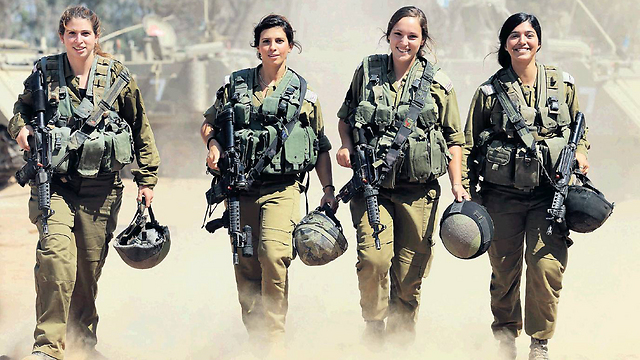 The four female paramedics that saved lives during Operation Protective Edge (Photo: Gadi Kablo, Yedioth Aharnoth)

This was the first time since the fighting began that they met each other and shared experiences. The three women in regular service and another in the reserves were part of the group of paramedics who were among the only women to serve in Gaza for several days straight during Operation Protective Edge.

They are already back to being busy with normal operational activities, but the sights and memories of combat are still when them. Tal Shahar can still smell the burnt aroma that hung in the air of southern Gaza, Yonat Daskal can still feel the powder on her feet as she marched north with her fellow soldiers, Noam Dan can still hear an anti-tank missile being fired, and the repetitive warnings of a kidnapping still ring in the ears of Tamar Bar-Ilan.

The many wounded who the women cared for still occupy their memories along with thoughts of the pain, the operations, and the rehabilitation still waiting for their patients. More than anything, the four paramedics think about those who they couldn't save, those who didn't survive.

"On Sunday I was at the Kotel with the battalion and we said a prayer of thanks," said Dan. "In Gaza there were so many moments of death that I had to thank God that I'm alive. Only then did I realize how frightening it had been there."

Staff Sgt. Yonat Daskal (23) from Petach Tikvah was released from her regular service after spending three-and-a-half years as a paramedic with the Nahal Brigade and set out for a four-month long trip to South America. In July, just after arriving in Mexico, she understood from the many messages left by friends and colleagues in the army that something big was happening.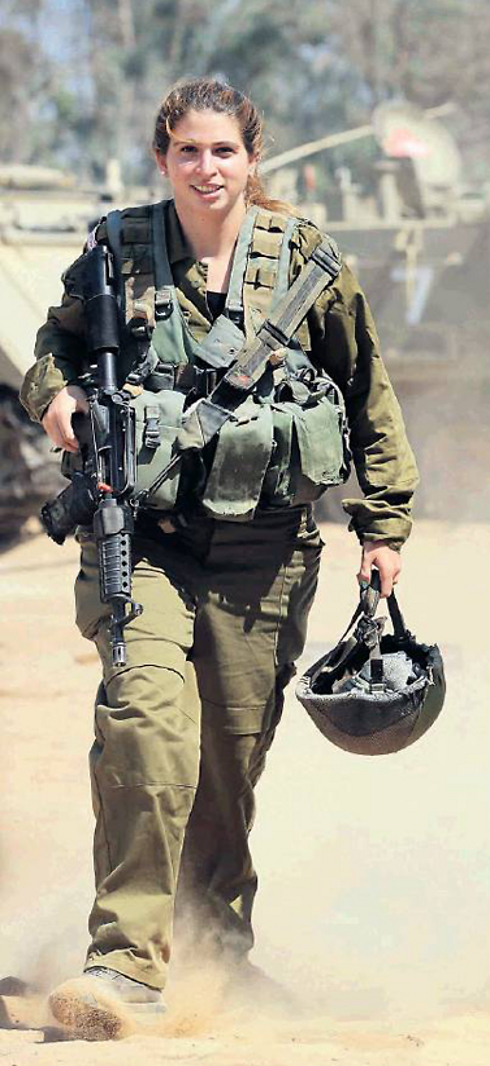 Staff Sgt. Yonat Daskal (Photo: Gadi Kablo, Yedioth Aharonoth)

"I called the brigade's medical officer and heard from him that they were starting to draft reservists. My trip was supposed to last for another month and I wasn't sure what to do. Once I understood from my friends that this was going to be serious, I said to myself that throughout my regular service I was trained in preparation for the real thing and there was no way that I would be abroad when it happened," said Daskal.

"I changed the date of my return flight and came back to Israel. Afterwards I found out that I had been called up but my mother hadn't told me. She admitted that it was the first time that she was happy that I wasn't in Israel. Her happiness didn't last very long."

Daskal landed at Ben Gurion International Airport one day after the IDF's ground forces had entered Gaza, and the day after that she had already joined Nahal troops in the south.

"Half of the people told me that I was crazy for coming back and the other half told me 'good job'. I was placed with a team of combat troops. We went in by foot and I marched with them and all my medical equipment on me - a helmet, a ceramic vest, and my rifle. The march wasn't easy. There were moments when I found myself desperately gasping for breath."

She continued, "We went from house to house with all my equipment on my back and I didn't let myself rest. I bit my lips and kept going. In some humorous moments the guys laughed at me and said that it was like I was walking from hostel to hostel in South America. I was in Gaza for a-week-and-a-half straight and then another 24 hours in and out, all without telephones or any contact with the world. Only on Fridays I thought about home. The rest of the time I was only focused on the work."

Daskal had plenty of work to keep her busy. "On one of the nights we heard startling booms. They said on the radio that three anti-tank missiles had been fired at our forces and that there was a soldier who'd been seriously wounded. After a few seconds they said that he was dead.

"Then came the news all in a row: There's another wounded, and another. There were eventually eight wounded and then a terrible silence emanated from the radio followed by a scream, 'I need a paramedic'. I understood that I was just meters from the wounded soldiers."

"There was a medic with me who didn't quite understand what was happening to him because the wounded were his friends who went out to fight and he was in shock. I grabbed him and told him that I understand that they were his friends and that because this was a multiple wounded incident, we may not be able to treat everyone, but together we'd try to do as much as possible. I heard him saying to himself, 'as much as possible, as much as possible,' and somehow he came out of shock.

"In the meantime the soldiers put the wounded on stretchers, ran with them several meters and brought them to us, to a place that was between two buildings while bullets flew over us. I found myself with my ceramic vest and medical equipment, running to one wounded soldier, leaning over him, checking, treating him, and then moving on to the next."

"The first sounded soldier who came to me was screaming from pain. One of his hands was almost completely detached and he was screaming 'my hand is gone'. I asked for his name to check that he was conscious and I said to him, 'My name is Yonat and I promise that everything will be ok.' He looked at me and said, 'I know that it will be ok and we'll win in the end.' At that moment I just wanted to embrace him."

"I placed a tourniquet on him, and then a second wounded soldier arrived with shrapnel in his chest, followed by a third who suffered a serious injury in his leg, and then a fourth came with shrapnel in his eye. I saw the tears falling down his cheeks and knew that he was in great pain, but he refused to let me treat him. "Take care of my soldiers first, you can take care of me later," he said. I remember that I was very moved from what he said and thought that he was very noble."

"Since we had many wounded, there weren't enough soldiers there to evacuate all of them, and those who weren't hurt ran to the house where the wounded were lying, loaded a stretcher and brought the wounded to us for treatment, and that's how they ran, back and forth.

"During those moments I understood that I was on my own and I put everyone around me to work, no matter their medical training. There was great pressure, and a moment when I said, "damn, I'm alone. I need a paramedic, a doctor and a vehicle."

"All of a sudden, the Assistant Battalion Commander miraculously arrived and said, "There are two vehicles here with a doctor and a paramedic who will help you. At that moment I felt like God was with me in Gaza," Daskal told. "In total, I treated ten wounded soldiers that night."

Sgt. Tamar Bar-Ilan, a 21-year-old from Haifa, wears her parents' wedding rings regularly. When she entered Gaza, she took the rings off her fingers and attached them to a gold chain she wore around her neck. "A thought crossed my mind that if a tank catches fire because of the shells and I'll get burned, they wouldn't be able to remove the rings because of the edema and the blisters. I'm a hypochondriac paramedic. "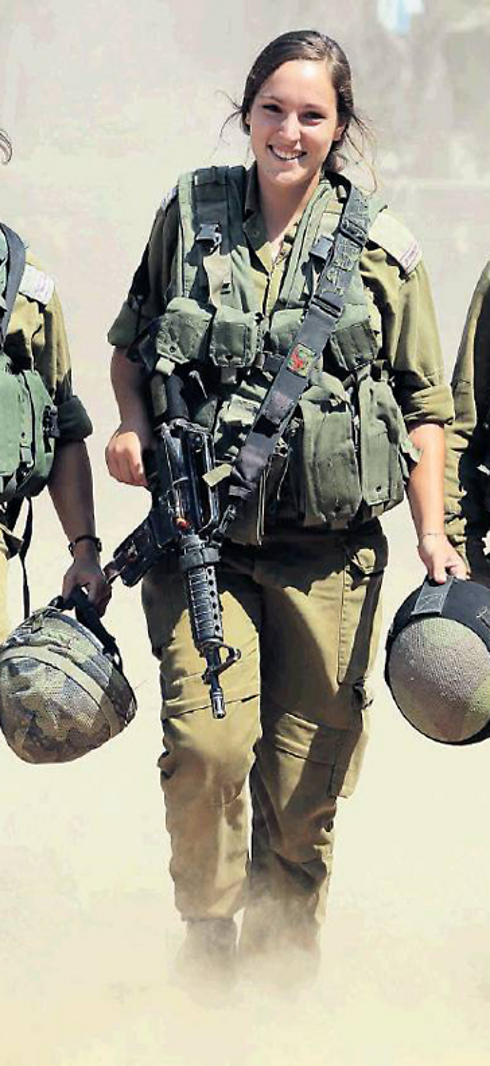 Sgt. Tamar Bar-Ilan (Photo: Gadi Kablo, Yedioth Aharonoth)

Bar-Ilan, an armored corps paramedic, entered the Gaza Strip with members of her battalion and was with them inside a tank for 12 days. "I was the only women among the men, but it didn't bother me. We've been serving together for two years and know each other well. As a paramedic, I'm used to be being the female minority, but this time it was different. I'd never been in a tank that had anti-tank missiles fired at it and on enemy's territory."

"At first I didn't leave the tank for five consecutive days. My greatest fear was that something would happen to the battalion's soldiers and that I would have to take care of them. The thought of not being able to save a soldier that I knew drove me crazy. When it got really hard, I reminded myself that I had to be strong for them.

"On my last night in Gaza, we heard a gunshot and someone shouted on the radio 'paramedic'. We quickly entered the tank, drove for several seconds and saw a wounded soldier on a stretcher. He was hit by sniper fire and both his legs were wounded. I quickly placed tourniquets on him, dressed his wounds, gave him painkillers and within minutes he was evacuated to the hospital in a helicopter. I handled things very professionally, but I can't get him out of my head."

Staff Sgt. Noam Dan is 22-years-old, from Dimona. During the operation, she entered Gaza with soldiers in the armored corps, with whom she serves.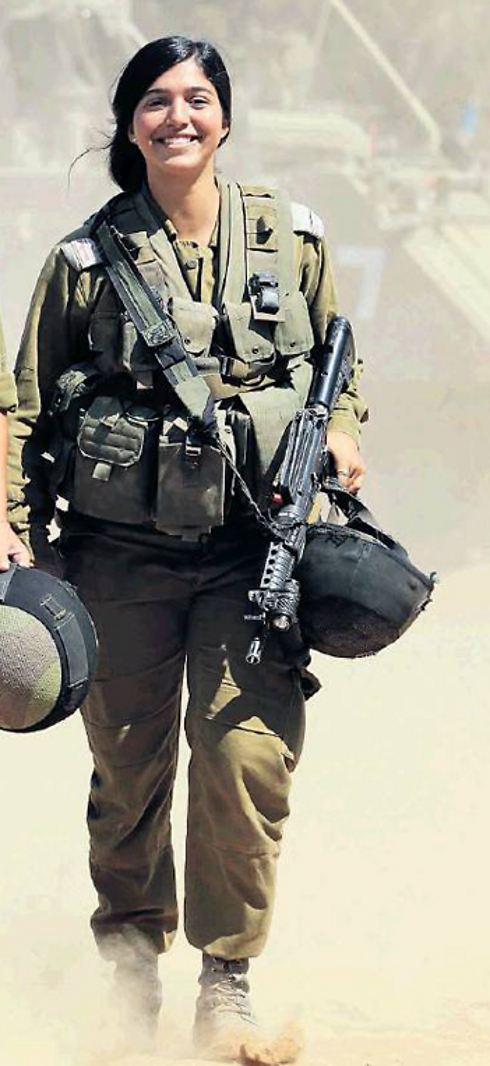 Staff Sgt. Noam Dan (Photo: Gadi Kablo, Yedioth Aharonoth)

"On the fifth day of the ground operation, they said on the radio that someone was wounded by sniper fire. We drove towards him with the tank, and saw a wounded soldier whose face was grey, lying on the stretcher. The doctor who treated him said that the sniper hit him in the area of his heart and that he had lost his pulse.

"I checked his pulse and felt nothing. I told myself that he has got to be ok and that I'll be visiting him in the hospital soon, and started giving him a cardiac massage. .

"It was the hardest thing I've ever done in my life. The tank was driving on and I was massaging his heart. I remember saying that no matter what, I won't stop until I get a sign of life from him.

"At a certain point I realized that our CPR efforts weren't working, and yet I still could stop. I asked the tank driver to go as fast as he can. I just wanted to reach the evacuation zone near the fence with Israel. When we arrived, the doctor pronounced his death.

"That's when I broke down. I told myself that this man deserves to be cried over. He endangered his life for me, for us. I laid down next to him and cried.

"The hardest moment was when I left Gaza and saw the pictures of those who were killed, one of them a 20-year-old that I had fought to save. So what exactly was he doing there? Fighting so that Israel would be able to live in peace.

"Now, when I talk about him, I can see his grey face in front of me, feel the cold from his body and remember that he was strong, and had the body of a fighter. He was a beautiful man."

Staff Sgt. Tal Shahar, a 22-year-old from Tel Adashim, serves in the undercover operations unit of the Israeli Border Police. During Operation Protective Edge, she was ordered to join Maglan, an Israeli Special Forces unit, and entered the Gaza Strip with the unit's soldiers. Unlike other soldiers, she refused to write a farewell letter beforehand, "so that it wouldn't be a self-fulfilling prophecy. I hung a photograph of my boyfriend next to my dog tag and felt that it gave me strength."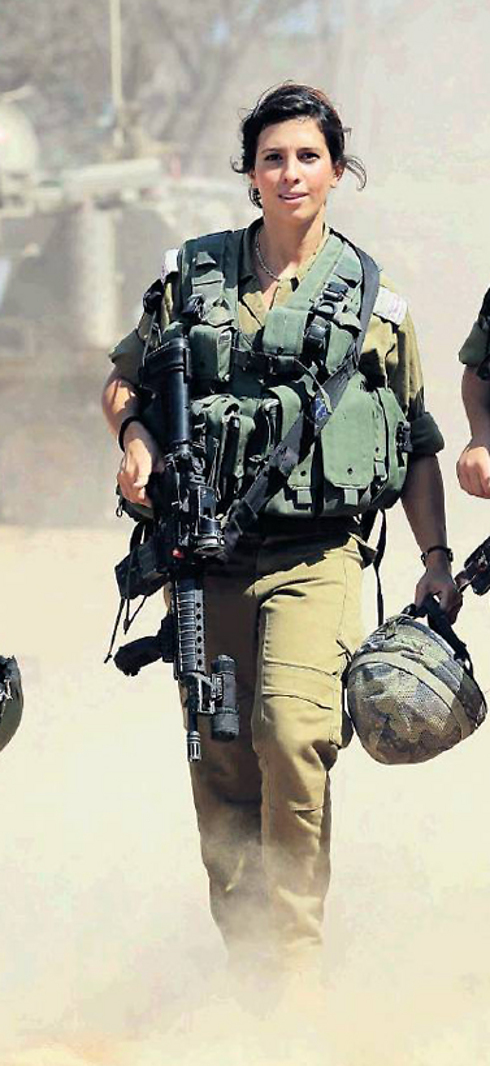 Staff Sgt. Tal Shahar (Photo: Gadi Kablo, Yedioth Aharonoth)

"I weigh 50 kilograms. The ceramic vest I was wearing and the equipment I was carrying weighed 40 kg together, and I didn't ask for any help. That's my job and there's no reason for people to treat me differently.

"On one of the days, we heard a large explosion and calls for a paramedic. Within three minutes, I arrived with the paramedic to a hospital building that was booby-trapped. There was a seriously wounded soldier there whose hand was partially amputated, both his legs wounded and he was entirely covered in soot.

"He told us that he can't feel his legs and I promised him that they would be fine. There were many there suffering from blast injuries and they were bleeding heavily. I didn't think about myself, I did what I had to do – CPR, stabilization and evacuation to a relatively sheltered area.

"When I left Gaza I saw a Facebook post saying "'Israelis, wake up, look at what's happening in Gaza.' I was so angry that I couldn't help myself from responding. I wrote that I had been inside a hospital in Gaza that was booby-trapped by Hamas, and that they had dug tunnels underneath. I also wrote that I had taken care of our wounded soldiers. Those statements made me very angry.
Polish Motorcycle Rally Remembers Righteous Among the Nations
Group of Polish motorcyclists go on a rally across Europe as a tribute to Jan Karski, known as "the man who tried to stop the Holocaust".
Motorcycles (illustration)
Reuters
A group of Polish motorcyclists went on a rally across Europe as a tribute to Jan Karski, a Righteous Among the Nations, also known as "the man who tried to stop the Holocaust".
This year Poland marks 100 years since the birth of Karski, who died in Washington in 2000.
Karski was born in Lodz, Poland, in 1914 under the name Jan Kozielieski. After completing his academic studies he started to work for the Polish Ministry of Foreign Affairs. With the outbreak of the WWII, Karski joined the Polish underground "Armia Krajowa". The fact that Karski spoke several languages led him to travel to many European countries where he tried to expose the horrors of the Holocaust and convince world leaders to take actions.
Karski was also a link between the Polish government in exile in London and the Armia Krajowa in Poland. For his activities he was awarded the title "Righteous Among the Nations" by Yad Vashem, honorary Israeli citizenship, and many national Polish awards. In 1998 he was nominated for the Nobel Peace Prize.
The group of "Harley Davidson" riders went on a 5,000 km rally from the Polish capital of Warsaw to Angers in France, where they are due to arrive on August 30. The rally is just one of a series of events planned this year to mark Karski's 100th birthday.
Maciej Sankowski, one of the bikers who takes part in the rally, told Polish national radio, "We want to promote Poland, as well as change the view that Poles are anti-Semites. We also want to highlight the figure of Jan Karski abroad".
3 Keys to Spiritual Growth
She looks like a typical soccer mom, but to me she is the hero next door. After parenting class one afternoon, this young woman asked if I had a few moments for her.
"My daughter was born with a chronic condition. No one really knows about it. The doctors discovered this a few weeks after she was born. I've taken her to specialists all over the country these past few years. I did not grow up with any real connection to Judaism. I don't know how to begin to pray. I want so much to do something for my little girl, something spiritual, beyond the medical. And feel as if I'm sometimes running on empty. So tell me, what can I do?"
This conversation took place a year ago. It was the Hebrew month of Elul, the days when God is knocking on our door. Rosh Hashanah, the time of judgment, is near and we have a natural desire to grow closer to all that is holy.
"This is what I'd like you to do," I told her. "Just as we open bank accounts and make deposits to try to build our financial security, I would like you to open a spiritual bank account. Every mitzvah you do becomes a deposit on your daughter's behalf. You are creating merits that will carry her name. Every good deed you do, every step you take closer to God, large or small, adds up. You can create dividends of blessing and make a difference."
Her dark eyes lit up.
"And this is the best time of year to see the greatest return on your investment." I added. "God is closer to us, all we need to do is take the first step."
"I would love to do this," she replied, "but I am scared. I don't know too much about mitzvahs and my husband is definitely not on board. I feel so alone and I am just one person. What happens if I make a mistake and fail?"
Many of us have faced these feelings as we grapple with our desire to grow. We lack the knowledge and we fear failure. Sometimes we have the best of intentions but there are spouses, friends or family members who discourage or mock us.
I shared with this young mother three keys to making successful spiritual change in life.
1. Desire
True desire to accomplish makes all the difference. We don't allow ourselves lame excuses; we don't permit the negativity of others to stand in our way. We just want 'it' so badly, whatever 'it' may be.
When my children were growing up I would be amazed to see how easily they would jump out of bed the day we would be going on a family trip. It could be the crack of dawn, pitch black and freezing outside, but there they would be at the front door all ready to go. And yet on other days, it could be so difficult for these same children to make the school bus on time. The difference is genuine desire. Your inner drive makes it happen.
The first step toward making serious change is wanting with all your being for this transformation to occur. Channel the longing into action. If you really want this change to happen, your desire will propel you higher and higher as you climb your spiritual mountain.
How do you find the desire? Here are two paths.
Imagine the times you wished to get into good physical shape. You know that you need to stop eating all that sugar and junk food; you know that you need to work out each week; you know in your heart that if you would only make some changes you would feel so much better. But you don't. You may talk about a diet, you sign up at the gym or buy a treadmill, but you never really make it happen. What would get you going?
One possibility is that one day you take a look at yourself and realize that you are on a destructive path. You catch a glimpse of yourself; you are disgusted and can't stand it anymore. "I need to change!" you say to yourself.
The other possibility is that an awful wakeup call forces you to make a change. It can be your doctor telling you that you are on the road to diabetes; it can be sudden chest pains, or the fact that you have been wearing the same two pants because nothing else really fits.
It is the same with our spiritual quests. You can take a few moments of quiet time and honestly look at yourself in a magnified spiritual mirror. What do you see? You realize that too much time has been spent hurting others and you've had enough. You are tired of the gossip mongering, the silly rumors, and the malicious words. The desire to be better is burning inside.
Or something happens that makes you feel terrible. You have hit rock bottom and wish you could just go back in time. Your gossip has destroyed a friendship, your words have diminished the ones you love, and you realize that you have become a source of extreme pain in this world. Your heart tells you: Enough!
2. Make a Realistic Plan
After harnessing our desire, we need to set a goal. Ask yourself: what is my target and how will I get there?
We can easily become overwhelmed by the choice of so many mitzvahs, and so many roads to take. Sometimes we choose a goal but set our sights too high.
"I will NEVER speak another word of lashon harah, gossip, again!"
"That's it, no more screaming and losing my temper. I will ALWAYS use gentle, calm tones."
'Never' and 'always' are words that do not allow us to forge a doable path and accomplish our goal. It is important to begin with small steps because it is the small steps that mold and encourage us.
Instead of saying 'I will never gossip again,' create a plan. For example, identify the time of the day that you find yourself most immersed in gossip. Perhaps it is 9 to 10 each morning as you enter your office or catch up with friends. So this Elul, the plan is that from 9 to 10 you will limit your conversations, maneuver the talk away from malicious gossip, or put a sticky note out for yourself to keep you on track-any idea that works to better help you achieve your aim.
Even one less conversation a day of rumors and hurtful talk will strengthen us and make a difference. But it must all begin with a doable plan.
3. Don't Get Discouraged
We are only human. Angels never fall; people do. There will be times that, despite our greatest desire and real life plan, we will stumble. And that's okay. It's the only way to really grow.
King Solomon taught us that a righteous person will fall seven times but he gets up. Standing on our feet again is the process through which we become greater. It is not a sign of failure. If there are times that we realize that we have not been loyal to our goals, we must not give up. Instead, we gather our strength and try again.
Discouragement and thinking negatively about ourselves hinders us from our spiritual climb.
This sensitive mother who approached me decided to take upon herself the mitzvah of lighting Shabbat candles and creating a Friday night Shabbat table for her family. She also decided not to drive or talk on the phone Friday evenings.
You cannot imagine how difficult this climb has been for her. There have been times that she walked a few miles to family gatherings. Her husband has mocked her efforts with hurtful words and sarcastic remarks.
But the hero next door has not given up. She has created a beautiful Shabbat table filled with love for her family. Each week her children eagerly anticipate the lights of Shabbat. A new generation now has been linked back to Sinai.
This courageous mother has forged ahead despite all the obstacles. She has created a rich spiritual account in her daughter's name. I pray that she be blessed with peace and healing.
---
The Five Towns Community Services
WOMEN'S WEEKLY SHABBOS SHIUR
IN MEMORY OF
YERACHMIEL MEIR BEN NISSIM AVRAHAM A"H
2013/5773
If you would like to speak, host or receive emails please contact:
Chana Epstein- 295-2537 chanaeps@optonline.net,
Chana Bienstock-569-4077 or Marcia Behar 374-0741-
FIVE TOWNS COMMUNITY WOMEN'S SHABBOS SHIUR
IN MEMORY OF YERACHMIEL MEIR BEN NISSIM AVRAHAM A"H
If you would like to speak, host or receive emails please contact:Chana Bienstock-569-4077-
Marcia Behar 374-0741-Chana Epstein- 295-2537 chanaeps@optonline.net
A Kesivah V'chasima Tova 5774/2013-14
SHIUR WILL BEGIN 3:15 p.m
Jan 4/3 Shvat–Bo- Zev and Yola Ash, 413 Marlborough Rd., Ced
Jan 11/10 Shvat-Beshalach-Yossi and Elaine Farber, 333 Buckingham Ct., Ced
Jan 18/17 Shvat–Yitro-Elliot and Miriam Safer, 390 Arbuckle Ave., Ced
Jan 25/24 Shvat-Mishpatim-.Chaim and Rina Halbfinger, 324 Buckingham, Ced
Feb 1/1Adar I-Terumah-Alan and Shuly Rubel 254 Oakwood Ave. Ced
Feb 8/8 Adar I-Tetzaveh- Robert and Esti Levinson, 444 Argyle Rd., Ced
Feb 15/15 Adar I- KiTisa- Don and Hedi Well, 484 Argyle Rd., Ced
Feb 22/22 Adar I- Vayachel-Chaim and Michelle Grosser, 386 Barnard Ave., Ced
March 1/29 Adar I-Perkudei- Stuie and Tzippy Nussbaum, 508 Redwood Ced
SHIUR WILL BEGIN 4:15 p.m
Mar 8/6 Adar II- Vayikrah- David and Simone Greenbaum, 571 Albermale Pl., Ced
March 15/13 Adar II – Tzav- Zvi and Malky Nathan, 421 Rugby, Ced
March 22/20 Adar II- Shemini –Zev and Evy Guttman, 588 Park Ave. Ced.
March 29/27 Adar II – Tazriah –Dovid and Shoshana Kestenbaum, 366 Summit, Ced
April 5/5 Nissan – Metzorah – Yehuda and Malya Kunstler, 346 Forest Ave., Wdmr
Wishing you a kosher and fraylichen Pes
Young Israel of Lawrence-Cedarhurst
Women's Iyun Tefila Shiur
CONGREGATION AISH KODESH

Rebbetzin Weinberger's Shiur

Rebbetzin Weinberger's shiur for women will resume on Tuesday, October 15/11 Cheshvan at 11:00 a.m.
The "Ohel Sara" Amen Group
in memory of Sarit Marton a'h
This week's shiurim and chabura schedule:
The "Ohel Sara" Amen Group
in memory of Sarit Marton a'h
cordially invites all women to attend our
Spring Learning Series.
This week's Shiurim & Chabura schedule
is as follows:
Sunday, May 4, 2014
9:30 AM Chabura - Garden of Emunah
Monday, May 5, 2014
9:15 AM Chabura - Hilchos Brachos
9:30 AM Rabbi David Fohrman
1:00 PM Rebbetzin Tziporah Heller - The Maharal of Prague
Tuesday, May 6, 2014
9:15 AM Chabura - Rav Schwab on Tefilah
10:00 AM Rabbi Tzvi Flaum - Chumash
11:15 AM Rabbi Tzvi Flaum - Pirke Avos
Wednesday, May 7, 2014
9:15 AM Chabura - Rabbi Eric Coopersmith - Teleconference
1:00 PM Mrs. Chavi Alpert - The Gra
Location:
2 Forest Lane
Lawrence, NY
Entrance on Broadway
There is no admission charge to attend any of our programs or shiurim
PLEASE HOLD THE DATES:
Sunday, March 2, 2014 - ROSH CHODESH ADAR BEIS
8:15 AM Brachos
9:00 AM Hallel
9:30 AM Rabbi Yossi Wallis, CEO of Arachim
Monday, March 3, 2014 - ROSH CHODESH ADAR BEIS
8:15 AM Brachos
9:00 AM Hallel
9:30 AM Rabbi Dani Staum
Rabbi Fohrman's Shiur- New Time

Rabbi David Forhrman's Genesis Unveiled series resumes this Saturday evening, February 8th. Please note the new time of 7:15pm.
The AIPAC program, From Woodmere to Washington will follow the class at 8:30pm.
******************************************************
Esti Stahler
Parshat Tzav http://youtu.be/KDz58ktZzY0
Parshat Vayishlach http://www.youtube.com/watch?v=HMNfGINtQxY
Parshat Lech Lichah http://www.youtube.com/watch?v=YFPHu7maqgQ
Parshat Noach 2012
Parshat Breishit 2012 http://www.youtube.com/watch?v=kLoPX3PjTsw&feature=youtu.be
http://www.youtube.com/watch?feature=player_embedded&v=ty4v_6dinqY, Parshat Nitzavim/Vayelech
http://www.youtube.com/watch?v=w_Cvpa82Qfk Parshat Naso
http://www.youtube.com/watch?v=vPvuLR0x_MM Parshat Behaalotchah
http://www.youtube.com/watch?v=-5-H8uWPlkE&feature=em-share_video_user Parshat Shlach
Rabbi Eytan Feiner
http://www.s213209882.onlinehome.us/REF_17_Tamuz.mp3
http://www.s213209882.onlinehome.us/REF_Matos.mp3
http://www.s213209882.onlinehome.us/REF_Bhaaloscha.mp3
Rav Meir Goldvicht
http://www.s213209882.onlinehome.us/B'halotcha.mp3
http://www.s213209882.onlinehome.us/B'halotcha.pdf
http://www.s213209882.onlinehome.us/Goldvicht_Naso.mp3
http://www.s213209882.onlinehome.us/Goldvicht_Naso.pdf
Shira Smiles

http://download.613.org/smiles/videos/5768-9-43-matos -massey-the-grand-scheme.mp3
http://download.613.org/smiles/videos/5768-9-39-shelach769.mp3
http://download.613.org/smiles/videos/5768-9-38-behaaloscha
-comprehending-the-complaints.mp3
top
Second Anniversary Program 2007
Rabbi Dovid Weinberger on Sarit Marton's Yahrtzeit Dedication:
Midos, December 4, 2007
Rabbi Nissel on Tefilah, November 2007 Topic
Rebbetzin Shira Smiles, December 2007 Topic
Debbie Greenblatt, Michtav M'Eliyahu: Midat Harachamim, October 15, 2007
Debbie Greenblatt, Michtav M'Eliyahu: Midat Harachamim, October 22, 2007
Debbie Greenblatt, Michtav M'Eliyahu: Midat Harachamim, October 31, 2007
Esther Wein and Rachel Baron: Chahashemesh L'Yaakov, July 31, 2006
Esther Wein Musaf Rosh Hashanah September 6, 2006
Rabbi Mordechai Sitorsky September 2006
Rabbi Mordechai Sitorsky on Rosh Chodesh Tammuz, June 26, 2006
Rebbetzin Sara Meisels Rosh Chodesh Elul Divrei Bracha 2006
Rebbetzin Abbey Lerner Rosh Chodesh Iyar 2006
Rabbi Dovid Weinberger on thefirst of Chanukah 2007presenting the Sefer Middos
2nd Anniversary of the "Ohel Sara" Amen Group
Rebbetzin Judy Young a'h speaking at a Rosh Chodesh Elulprogram in Great Neck
top
Sundays only at 8:15am at 386 Felter Avenue, Hewlett.
Women gather to recite and hear at least 100 morning blessings so as to fulfill the mitzvah of doing so. If you know of someone who is ill, please feel free to call and provide the group with the Hebrew name, so that those who are present may pray for him or her. Haidee Blumenthal (516)295-5431
top
Beryl Wein -

Click here for this Week's Parshah
top
Congregation Mikveh of South Shore, 1156 Peninsula Boulevard, Hewlett (516)569-5514
Hebrew Community Service Mikvah, 1121 Sage Street, Far Rockaway (718)327-9727
For Jewish Holidays Only: Aish Kodesh Mikvah. Woodmere Boulevard in Woodmere. Speak with Sandy Polansky to make a reservation. (516)459-2298
Congregation Bais Medrash. 504 West Broadway, Cedarhurst. Speak with Rebbetzin Spiegel(516)569-1971
top

Hewlett Woodmere Library - 1125 Broadway, Hewlett 516-374-1967
Peninsula Public Library - 280 Central Avenue, Lawrence 516-239-3262 l www.peninsulapublic.org
Children's Movies: Sunday at 2:00pm
Story Time: Mondays at 4:15 pm (3-5 Year Olds) - a half hour program of stories and a short film.
Book Discussions: Tuesdays at 6:30 pm (Grades 4 - 7)
Registration - January 12
Program: February 10
The Theif Lord By: Cornelia Funke
Registration - February 9
Program: March 24
To Be Announced
Toddler Time: Thursdays at 10:30am (24 - 35 months) - A lively half-hour of songs, stories, fingerplays, movement and a short film for a child accompanied by an adult.
Mother Goose: Fridays at 10:00 am (12-23 months) - Programs of songs, finger plays, nursery rhymes and board books for very young readers accompanied by a parent or caregiver.
Parent-Child Workshop: Thursdays at 10:00-11:15 (12-35 months)
A special program that encourages parents to play, sing and do finger plays with their children. Specialists in the fields of Speech and Hearing, Behavior and Development, Nutrition, and Dance/Movement are available at various sessions. Registration is required and is being accepted in the children's room.
Book Talking with Arnold Rosenbaum: Wednesdays at 1:00pm
The Defining Moment - FDR's First Hundred Days and the Triumph of Hope by Jonathan Alter. January 31
Economic Problems Facing the Middle Class .Mr. Rosenbaum will present his thoughts on the socioeconomic problems facing the American middle class. March 14
If Music Be The Food of Love...Shakespeare In Love: Sunday, January 7 at 2:30pm. New York jazz vocalist Christiana Drapkin celebrates the beauty and power of William Shakespeare's poetry and presents it in lively, sometimes haunting, jazz arrangements. The songs are direct quotations from Shakespeare's plays. Tickets required.
Picasso and American Art: Monday, January 8 at 1:00 pm. Picasso is acknowledged by many as the central figure of the modern movement. Art historian Mary Vahey will examine the sometimes worshipful, sometimes testy relationship between American artists and the Picasso, the immensely inventive Spaniard.

A Rockette Remembers: Wednesday, January 17 at 1:00pm. Corliss Whitney, the honorary historian of the Rockette Alumnae, shares poignant stories about her years as a Rockette during the 40's and 50's.
Laugh Your Way to Health - Humor Therapy: Wednesday, January 24 at 1:00pm. A presentation that will focus on the latest studies that scientifically prove and explain how and why laughter IS the best medicine.
Berman Does Merman: Sunday February 4 at 2:30pm. Songs and stories celebrating Ethel Mermans brilliant career will be brought to PPL by vocalist Lisa Berman. Tickets required.
India...Exotic and Ancient Land of Contrasts: Thursday, February 8 at 1:00pm. Through lecture and slides, Sally Wendkos Olds will guide you on a journey to another world of exotic beauty and ancient splendor.
Great Lyricists and/or Poets: Wednesday, February 14 at 1:00pm. Arnie Rosenbaum will share the poetic lyrics of Ira Gershwin, Alan J. Lerner and Larry Hart. You decide if the great lyricists of the 20th century really were master poets.
Louis Comfort Tiffany and Laurelton Hall - An Artists Country Estate: Monday, March 19 at 1:00pm. Ines Powell, Metropolitan Museum of Art educator, will present an illustrated lecture which will bring together many of the architectural elements and design features of Tiffany's extraordinary country estate in Oyster Bay.
top